About Our Laundromat
Founded in February 2014, the Laundromart of Four Corners LLC laundromat at 17445 US Hwy. 192 Clermont FL 34714. Our laundromat is in Four Corners just a 1/4 mile from Highway 27 in the Publix Super Market at Summer Bay shopping complex. Our locally owned and operated state-of-the-art laundry facility serves the busy localities of Davenport, Kissimmee, Reunion, and Celebration FL areas.
Not Your Typical Laundromat!
We are a customer-centric company, focusing on providing top-notch customer service. At our environment-friendly facility, we aim at satisfying every customer's needs and offering the best laundry service in town!
Our Foundation – Building Strong Relationships
Since we opened our doors the prices for our quality laundry service remain the same. Our associates, who started with us 5 years, are dedicated and continue to proudly serve our customers this today. This speaks volumes of the commitment we have and the strong relationships that we've been building over the years.
About Our Owners
Terry and Jeffrey Pyle grew up in southeastern Pennsylvania. Terry was a teacher and Jeffrey worked in the local hardware/lumber store. Seven years later they along with other family members bought the hardware store and started Pyle's Home & Supply. It was a difficult area to be located in because Delaware was just 6 miles away with No Sales tax as Pennsylvania had 6%. We however survived by offering all our customers the best customer service experience. Well, thirty years past and after growing our business to be one of the top 100 stores of this type in the country we sold out and retired to Florida.
Now four years later we got really tired of the drive from Kissimmee to Tampa and desired to open a brand new, ground-up Laundry closer to our home. Thus "Laundromart of Four Corners" was born in 2014. All new and in a new area, we again hired attendants that share our same idea of "best customer service".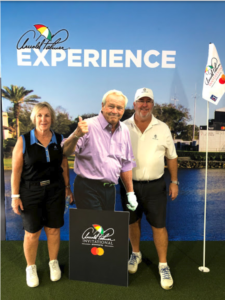 That did not last long and boredom set in so we started again by buying an old laundry in Tampa. We remodeled it, adding all-new Speed Queen equipment. Our business grew tremendously even though we had seven other laundromats within one mile. We used the philosophy that we used in our hardware business giving "best customer service" and offering a clean safe place to do laundry. We always enjoyed giving back to the community and the way we did this in Tampa was to offer once or twice a year a Free Wash and Dry Weekend. We had 60 washers and dryers and gave thousands of pounds of free wash to everyone who stopped by.
We have grown every month using this way of business and only have to drive fifteen minutes from our home. We sold our Tampa location in 2016 so we could devote all our energy to this one location.
We Love Our Community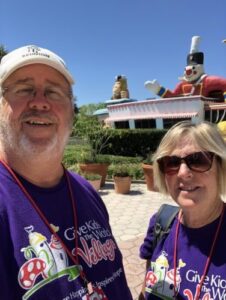 We love where we live and believe in giving back to our community, supporting the community in which we operate. We are passionate and have been doing our bit by donating and volunteering our time with the causes close to our heart especially:
Orlando's "Give the Kids the World" nonprofit resort in provides weeklong, cost-free vacations to children with life-threatening illnesses and their families
Our local chapter of the ALS Association
Foodbank of Central Florida,
Veterans Association
Our customers and our associates are what we love the most as they all work hard. We try our best to make the chore of doing laundry just a little more fun!
Four Corners Laundromat in a Great Location
Laundromart of Four Corners is the nearest laundromat in the Four Corners and Kissimmee area located in the Publix Market at Summer Bay showing complex just a 1/4 mile East of Highway 27 in Four Corners. Our great location provides many amenities that will keep you busy as your laundry is washing and drying.
Head over to Publix Market and get your grocery shopping done.
Work out and exercise at the nearby Anytime Fitness gym.
Get a haircut at Fantastic Sam's Hair salon.
Pamper yourself with a pedicure or nail treatment at the nail salon.
Grab some pizza at Papa John's or pick it up to take home so dinner is ready when your clothes are.
Fill up your car with gas at the Speedway gas station or even get your car washed while your clothes spin in our washer and dryer!
Why Choose Our Laundromat and Laundry Service?
Open EVERYDAY from 7am-10pm
Quick and easy drop-off laundry and pick up service
New, hi-tech, high-efficiency machines that wash & dry faster, use less detergent, hence save more money and time
Friendly, inviting professional laundry assistants
Hassle-free parking for vehicles of all sizes including RVs
Clean, hygienic, environment-friendly laundry facility
FREE, high-speed internet connectivity
Convenient payment options as we accept all credit cards including American Express (AMEX)
10% extra bonus on every $10 or more spent, using our Laundromat Wash Cards
Wide selection of amenities to keep yourself busy while your laundry is done!
Self-Service Laundromat and Full-Service Laundry Facility
Feel free to drop in for a visit our laundromat before you bring in your laundry. A member of our team can show you around and you'll get an idea of all the great laundry services we have to offer, the sizes of our washers and dryers, and how we can serve you best. Whether you prefer self-service laundry or full-service laundry, we're ready to provide you with great laundry services!
Have a Question? Just give us a call!