Laundry Service Customers
When it comes to great laundry service, focusing on customers comes first. At Laundromart of Four Corners, we are a customer-centric laundromat. Focusing our attention completely on ensuring convenience and satisfaction for all of our laundromat customers is our top priority.
We serve a broad range of customers that include both local residents and businesses as well as tourists, vacation rental owners, athletic teams, campers, and many more that are drawn to the Four Corners, Celebration, Kissimmee, Champions Gae, Disney, and Davenport areas.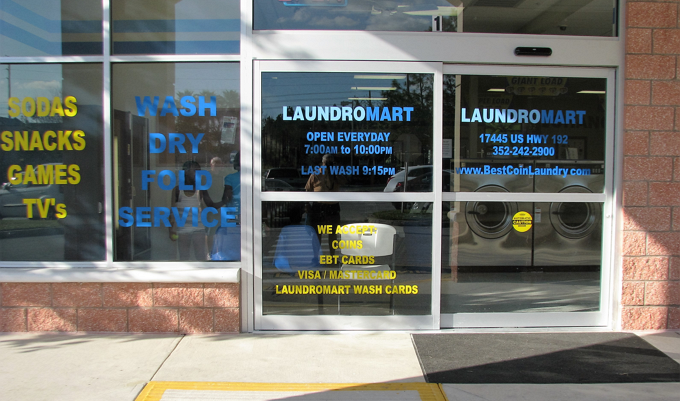 Some of the beloved customers we help serve include, but are not limited to:
Full-Service Laundry and Self-Service Laundry Customers
Uniforms for Employees, Athletes & Sports Teams
With so many service-based businesses and athletes and sports teams in and around the Kissimmee FL area, the need for trusted quality laundry services for uniforms is critical. A dirty uniform, stained outfit or worse, can mean the difference between winning or losing.
We know how important it is for uniforms to need proper care and washing on a daily basis and need to be clean and ready for wear the very next day. We not only ensure a quick turnaround time, but also, make sure every uniform is as neat and impeccable as can be so each athlete can wear it with pride the next day!
Also, our machines are hi-tech, modern washers and dryers that disinfect the clothes to prevent viruses, superbugs and bacteria, MRSA and the like from spreading. This is critical to the safety and health all concerned – whether employees, athletes or participants.
Condo Owners and Vacation Rental Owners
Condo and vacation homeowners often rent out their property to travelers and vacationers. Whether resorts and vacation management companies to VRBO and condo owners, all guests expect spotless and fresh, clean bedding, towels, and linen. This can only happen when beddings and linens are cleaned regularly and often on a daily basis.
When it comes to visitor and vacation properties, quality and capacity to provide excellent results are of the utmost importance. Our state-of-the-art high-capacity commercial machines ensure the cleanliness of your items and preserve their longevity.
We offer top-quality laundry services your guests will love and keep your calendar booked! Contact us to discuss how our experience providing laundry service to property managers and vacation rental owners can work for you.
Visitors & Tourists
With all that Disney area, Kissimmee, and Celebration have to offer, our laundromat sees and serves a high volume of visitors and tourists throughout the year. When traveling and on vacation, the conveniences of home are not always available especially at hotels, campgrounds, motels and the like. You want to look nice and clean for that perfect picture, for that perfect memory!
When you're traveling you may need to do laundry or laundromat that can wash, dry, and iron your clothes quickly and give them back in perfect condition. We satisfy this need as ours is a state-of-the-art, environment-friendly facility dedicated to delivering the cleanest of clothes, dried and neatly ironed (if requested) for picture-perfect moments!
Campers
As campers are on the move, they rely on our quality laundromat to get laundry done when they camp in the Celebration, Davenport, Champions Gate, and Kissimmee areas. We offer a quick turnaround time, assistance of laundry attendants, new, modern machines that use less detergent, and much more that fit the needs of campers and make us their most favored laundromat in the area! We have a huge parking lot to accommodate large trucks, motorhomes, and campers.
Local Residents
We offer a wide range of laundry services for residents that live in and around Four Corners, Reunion, Champions Gate, and Kissimmee areas. Pickup and drop facility, 24-hour turnaround time, ease of parking, friendly and helpful staff, convenient payment options, lots of amenities to keep you busy as your laundry is done are just some of the many factors that make us one of the best laundromats near Kissimmee FL.
We excel at serving the unique laundry needs of a diverse range of customers. Having won the love and trust of our loyal customers is what motivates us. We take pride in having set a benchmark for superior quality laundry services in our area. Just let us know how we can help you!
Drop-in at our laundromat in the Publix Market at Summer Bay shopping complex at 17445 US Hwy. 192 just a 1/4 mile East of Highway 27.
Save time. Save money and leave all your laundry worries to us!
Contact us to learn more!