Self-Service Laundromat Facility
Our self-service laundromat and laundry facility is located in Four Corners at the Publix Shopping Center at Summer Bay just miles from Disney's Animal Kingdom. We serve the local areas of Kissimmee, Disney, Champions Gate, Reunion, Davenport, and Four Corners. We are not a typical laundromat and offer much more than the usual do-it-yourself laundromat!
Best Laundromat and Laundry Facility Near You!
Customer convenience and satisfaction is always our topmost priority. We pay attention to each and every detail that might affect it, starting from parking to resolving your issues to payments to delivering the most impeccably washed, dried and folded clothes!
Modern, eco-friendly laundromat
Our laundromat is a state-of-the-art facility with all new, hi-tech machines that range from standard size washers and dryers to industrial 80-pound capacity machines. The highly efficient, eco-friendly Speed Queen front-loaders wash much faster, use less soap and rinse more water out (which means less time on the dryer), than the other machines, saving you time and money.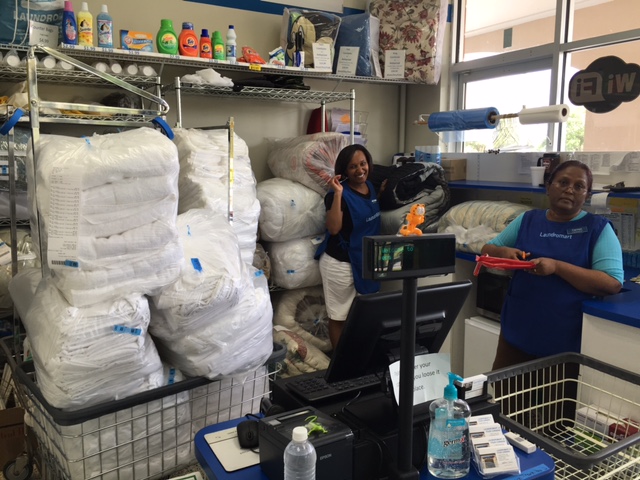 Friendly, inviting and comfortable environment

 

– We greet each customer with a friendly smile at our laundromat and show honest and sincere appreciation towards them.
Cleanliness

 

– We offer a super clean, hygienic facility to do your laundry. To maintain high standards of cleanliness, we ensure that the store is cleaned every day, twice a day – once in the morning and once in the evening.
Convenient Parking

 

– To make sure you are not worried about parking your big vehicle near our store, we provide ample parking space that can accommodate all sizes of vehicles. Feel free to drop

 

by

 

our facility. Whether you're driving an RV or a bike – there's no need to worry about where you'll park it!
Professional Assistance

 

– You always have help at hand from the moment you step into our store. Our laundromat staff are "laundry pros"! We're ready and available to help you with any issues or answer any questions you have about doing laundry, irrespective of whether you want to do it yourself or want us to do it for you.
Keep yourself connected

 

– We provide you with FREE high-speed WiFi internet connectivity. Don't let laundry stop you! Continue with your work, checking emails, do your research comfortably seated at our store as your laundry gets done!
Payment Ease

 

– We accept Visa/Mastercard, Debit Cards, Coins, EBT Cards, and

 

Laundromart

 

of Four Corners' Wash Cards. Plus, when you use our Wash Card, you get a 10% bonus on every $10 cash added. For instance, for  $10 cash loaded, you get $11 on the Wash Card.
Wide selection of amenities

 

– Keep yourself busy as you do your laundry – or was we do it for you at our facility. Watch TV, snack on yummies, shop, visit a salon, read a book, play arcade games and even get your car washed as your clothes get washed and dried at our facility!
Open 7 Days a Week

 

– Our facility is open

 

every day

 

from 7 am – 10 pm (last wash 9:15 pm).
Quick Drop Off Laundry and Pick Up at Our Facility

 

– In as little as 5 Minutes it takes to spent dropping off your laundry and pick it up, you can have all your laundry done with our Wash-Dry-Fold laundry service. With our convenient location in the Publix Market at Summer Bay Shopping Center it's hard to beat the convenience of using us to do your laundry! We're easy to find just a 1/4 mile East of Hwy. 27 at:
17445 US Hwy. 192, Suite 1
Clermont, FL 34714
(352) 242-2900
We can take care of at least one daily monotonous activity for you – your laundry! Use that time to do things you never seem to have time to do! Contact us to know more about our laundromat and our top-quality laundry services.
Save time. Save money. Leave all your laundry worries to us! Call (352) 242-2900 today!